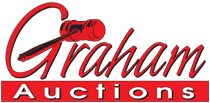 Buying and selling automobiles, homes, heavy equipment, and household items by yourself is a difficult task. Whether you sell on the internet, through newspapers, or in your front yard, it is hard to find a buyer who is looking for what you're selling. The simple solution is to sell your items through a public auction company. Buying and selling through an auction company benefits both parties.

Any good automobile auction, real estate auction, consignment auction, heavy equipment auction or new furniture and electronic item auction will be able to sell your product quickly. This is because it exposes the product to a pool of eager prospective buyers, all in one place. These buyers participate in competitive bidding, sometimes the product will sell for a price that exceeds what it would sell for in the market.

Graham Auctions is one of the largest and most well known public auction agency in all of western Canada and the northwestern United States. We have a large presence in our store and online. Our large client base enables us to auction products quickly and efficiently. If you sell with us, your product will be seen online by thousands of potential buyers before it even hits the auction floor.

We specialize in auctioning vehicles, real estate, heavy equipment, furniture, electronics and repossession sales. It is our promise to sell your product fast, all the while offering the best customer service. So if you are looking to buy, sell, or even just shop around, come visit us or give us a call today.
Call Today!
We'll be happy to answer any questions you have.
(403) 777-9393